Pedigree
Amour G has both Olympic dressage and showjump competitors/producers on both sides of his pedigree.
Amour G
Goshka Ringo
King
Purioso keur
Wanda keur pref prest
Leanne ster
Ferro pref
Cindy
Sigyn Torsmark
May Sherif
Elizar
May Kignaes
Alexandra
Aleksander
Tina Gravvaenge
Amour G's sire, Goshka Ringo, is a grandson of the great Olympic Ferro.
Like his son, Ringo has a kind and easy disposition. Only lightly competed, he has been successful at BD medium level alongside a very busy stud career with offspring exported to the USA, South Africa, Belgium, Canada and New Zealand. He sired several finalists of the Burghley Young Event Horse series.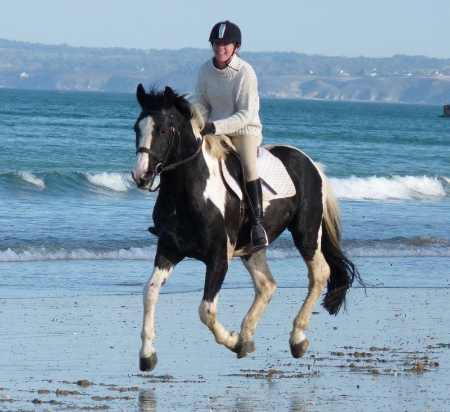 Ringo's sire King also brings the same gentle and easy nature to the mix.
He not only rides but drives alongside mares and hit the headlines around the world in 2006 when being one of the brave horses that helped lead over 100 horses stranded by flood waters in Holland. What better proof of his level headed temperament?
He can be seen at the front in the photo below.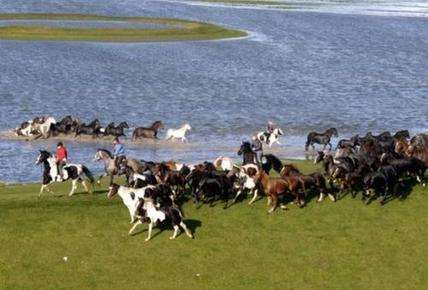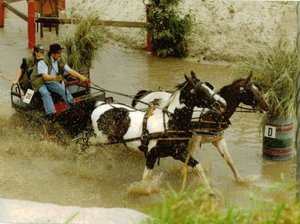 King leading the rescue. King driven alongside a mare.
King's sire Purioso surely needs very little introduction. He produced three Olympic sons including Bonfire and Cocktail, the sire of Jazz, the 2006 KWPN stallion of the year.
Purioso is himself a son of Furioso 11, the top producing stallion in Germany from 1979-89 based on the winnings of his offspring. In 1990 he was top producer of dressage horses, he produced over 200 state premium mares and at least 20 approved sons including For Pleasure and Voltaire, he is also seen in the lines through his grandsons Cocktail and Welt As (also in Sandro Hits third lineage) who produced Bonfire, Leroy Brown and STC Diamond.
King's mother is none other than Wanda, Samber's own sister (an extraordinary family).
On the other hand, Ringo's mother, Lianne, is one of Ferro's daughters (the famous Dressage stallion and Olympic individual gold medal winner) and Cindy, another of Samber's daughters, is her mother.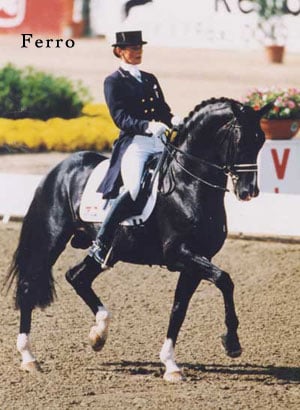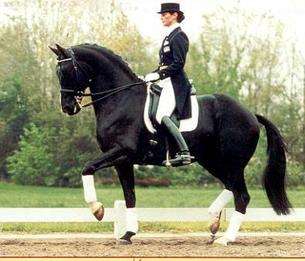 Olympic Ferro competed at the 2000 Olympics and assisted his team in achieving a team silver medal, with an individual score of 74.92%. As a three-year-old he was champion of his performance test at Ermelo, where he achieved outstanding results. Ferro was not only an Olympic medallist himself but is the grandsire of two of our British gold medallists -

Valegro

(through his son Negro) and

Uthopia

(through Metall)
His sire Ulft, is a son of the great Le Mexico, who is listed 10th on the jumping index with 142 points. Le Mexico carries Furioso xx blood, which brings value to any pedigree. Ferro's dam, Brenda, is a daughter of the Holsteiner, Farn, who is listed sixth on the jumping index with 146 points.
Olympic Ferro sired the champion of the three-year-old stallions at s'Hertogenbosch in 2000, and had nine young stallions in the second round there in 2001.
He can be relied upon to produce beautiful, typey, talented offspring of the highest quality. Fantastic toplines and an elegant look characterise his get. In addition to their dressage excellence, Olympic Ferro's offspring also make good jumpers.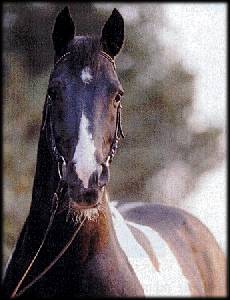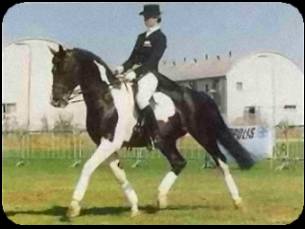 Another needing very little introduction. The only coloured stallion to be approved for breeding with the KWPN.
The stallion with the "Golden Temperament" scored 10 for temperament and trainability at 100 day testing in Holland. SAMBER has competed very successfully in Europe through Grand Prix level Dressage and the Z levels in jumpers, mostly with a junior rider. SAMBER is by two highly rated Dutch Horses - PERICLES: a preferent rate stallion and TINA: a ster. preferent, presteinte rated mare. SAMBER has consistently been very highly ranked on the index (400 stallions on average) for both dressage (top 20's) and jumpers (top 100's) for producing offspring excelling in these disciplines.
Most importantly Amour G's dam line is equally illustrious.
As it is widely believed that the dam is responsible for more than 50% of the gene pool, it is worth noting the quality on this side of Amour G's pedigree.
His dam, Sigyn Torsmark, is a double branded Danish warmblood mare who competed successfully in dressage before retiring to stud in the UK.
Her sire is the great May Sherif.
May Sherif.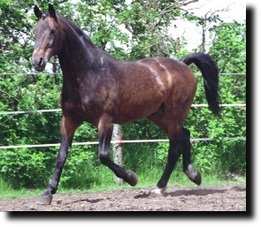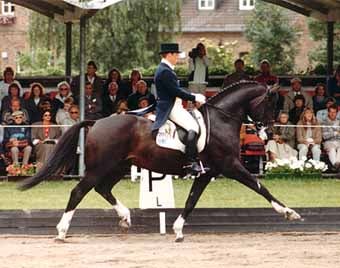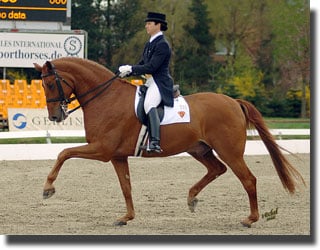 May Sherif Matador Maximus JSS
May Sherif was approved by the Danish, Finnish, Swedish and British Warmblood societies, the KWPN and the Oldenburger Verband. An internationally known sire for breeding dressage horses, such as Mester Mouse, Joanna Jackson's Olympic ride representing GB, Matador, World Cup champion 1991 and silver medal winner at the World Games 1990 and 1988, also representing Finland at the Olympic Games, Andiamo silver medallist at Seoul Olympics and World Cup champion and Maximus JSS, currently competing for the USA in the WEG and World Cup series .
As well as being the only stallion to sire more than two World Cup Freestyle champions, May Sherif is also recognised for his ability to pass on to his progeny wonderful activity and a special talent for piaffe and passage.
It is said that if you reach the soul of a May Sherif horse he will fight for you and to his utmost to serve you.
Aleksander.
Although approved by the Danish warmblood society, Aleksander was actually an Oldenburg. He was by the Thoroughbred stallion Adonis out of an Oldenburg mare. He became an Elite stallion siring many winners of championships and horses at olympic level.